Thanks to Garfield for her location and hint for this week's contest – the site of the first McDonalds in San Bernardino, California.
This site was the location of the first McDonalds that opened in 1940 by Dick and Mac McDonald as a barbecue restaurant. In 1948, they changed to the normal familiar format with hamburgers (with cheese?), milkshakes and sides on the menu.
The McDonald brothers franchised their fast food system starting in 1953, with the Golden Arches as the symbol. In 1954, Ray Kroc met the brothers, initially joining as a partner then buying the business from them in 1961.
Thanks to Albert Okura, owner of the Juan Pollo restaurant chain, the site was turned into a museum.
The hint referred to Route 66, the famous highway running from Chicago to LA that passes by just to the west of the site.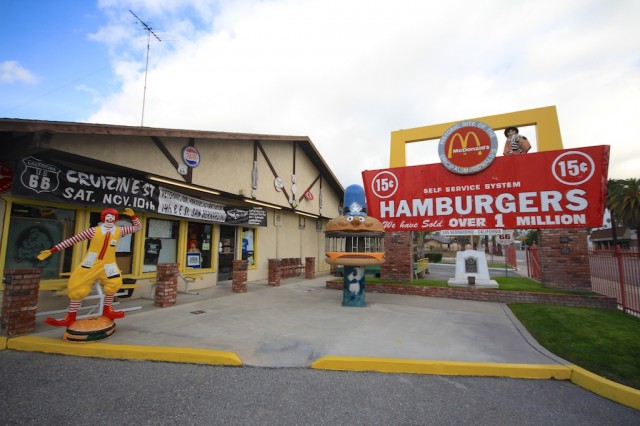 Found the Big Mac before the hint:
Lighthouse
Martin de Bock
Paul Voestermans
Garfield
hhgygy
Bas van Limpt
zorro the fox
Phil Ower
Andy Murdock
Eloy Cano
And after:
Robin
Andreas Meister
Graham Hedley