Glenmorren provided the location, hint and reveal information this contest.
Information in this post was acquired from thedigtree.com.au and explorebulloo.com.au/attractions/the-burke-and-wills-dig-tree.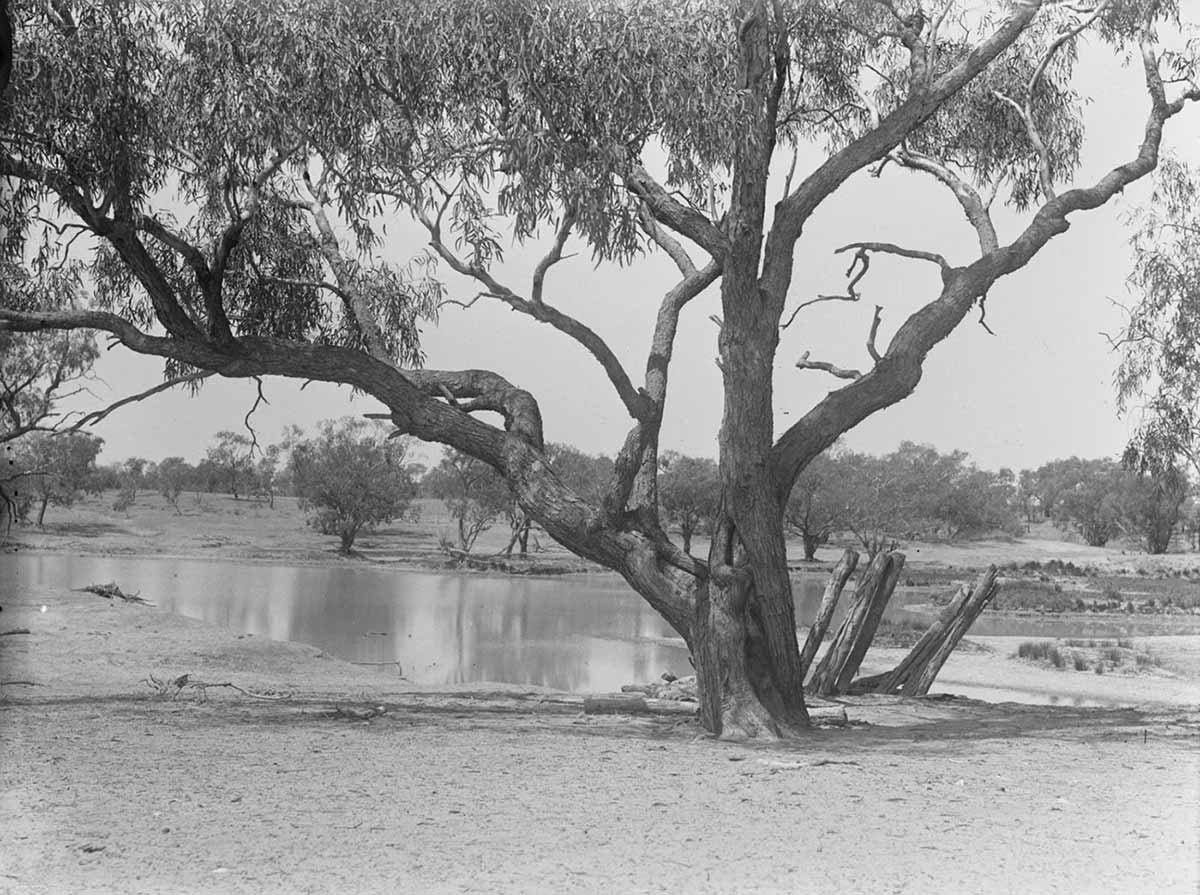 On August 20, 1860, a group of 19 men, with camels, horses, wagons, and supplies departed from Melbourne on an exploratory trek northward across Australia. This is known as the Burke and Wills Expedition (after Robert O'Hara Burke and William Wills). Compared to the Aboriginal people who had been living on the land for tens of thousands of years (the National Museum of Australia puts it at about 65 000 years), the party was not as well adapted to surviving in the harsh conditions of the Outback.
Route map can be found at:
However, four members of the party (Burke, Wills, Charley Gray and John King) did make it all the way to the northern coast before turning back to the south. They had left a small group at Cooper Creek on December 16, 1860, and returned to the site four months later on April 21, 1861.
Those left at Cooper Creek expected to wait for Burke and Wills to return within three months, but they stayed for four. Eventually they felt that the party must have died en route, so they packed up and left. But before doing so, they buried some supplies and marked a "dig" sign in a tree. That tree is known as the Dig Tree. It turns out that the Cooper Creek group left the site just nine hours before the Burke and Wills party struggled their way into the camp, only to find it deserted.
The Explore Bulloo website says that "The Burke and Wills 'Dig Tree' is one of Australia's national icons and an enduring reminder of our pioneering spirit" and that the tree "is believed that the tree is 200-250 years old."
The story of Burke and Wills does not end at Cooper Creek, so for a richer and more complete account of the story of the Burke and Wills Expedition and the Dig Tree, these two websites are highly recommended: thedigtree.com.au/the-history and explorebulloo.com.au/attractions/the-burke-and-wills-dig-tree.
Correct responses before the hint:
Glenmorren
hhgygy
Paul Voestermans
Phil Ower
Martin de Bock
Lighthouse
Garfield
zorro the fox
Eloy Cano
After the hint:
Graham Hedley
Bas van Limpt
Gillian B.