After discovering that we had inadvertently included the latitude and longitude of the first image for contest #489, we quickly replaced it with a substitute image – showing Marion Island in the southern Indian Ocean.
There are two islands in the Prince Edward Islands group: Marion Island and Prince Edward Island. Discovered by the Dutch but misplotted (at 41S, not 46S), they remained unvisited until again "found" by the French in 1772 who thought they might have found Antarctica. Neither party was able to land – and the first recorded landing was not until 1799 when a group of sealers set foot on land. The hint referred to the fact that it is difficult to get to the island (boat or helicopter) and several parties have been stranded on the island with no easy way to get off.
In 1947, South Africa annexed the islands and established a meteorological station on the northeast shore. The station was enlarged and eventually replaced by a new research base in 2011. The two islands are now part of a Special Nature Reserve and Marine Protection Area.
As you can see, the island is volcanic in nature, with the Mascarin Peak at 1242 metres above sea level an active volcano with eruptions occurring from time to time.
The research base – old on the left and new on the right.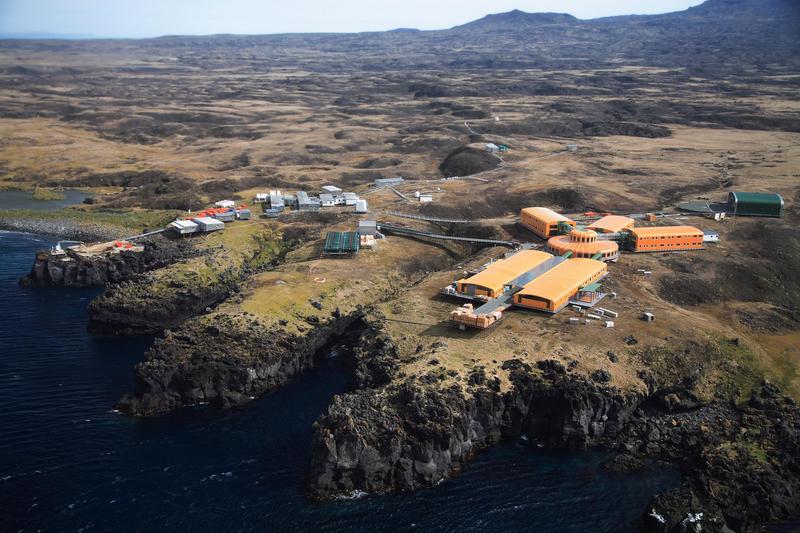 Found for 2 points, despite a bit of deception on our part:
Glenmorren
Eloy Cano
hhgygy
Lighthouse
Phil Ower
Garfield
The following players get 2 points for finding the first location before the image was quickly removed, and perhaps not visiting the site since.