The Masik ski resort, in southeast North Korea, was built by the North Korean government as part of a drive to "make people not only possess strong physiques and sound mentality, but also enjoy their sports and cultural lives in a worlds advanced condition" (DPRK Ministry of Sport, 2013). Leaders in North Korea hope that it can be used in the 2018 Winter Olympics, being hosted by South Korea.
Construction of the resort was slowed by delays in obtaining a ski lift, partly because the Swiss government blocked the sale of one on the grounds that it was an "installation(s) for infrastructure and equipment for sports facilities with a luxury character."
In the end, an old ski lift from Austria was supplied by China, who interpreted the rules regarding luxury in a different manner.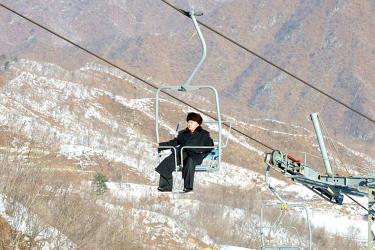 Video: https://m.youtube.com/watch?v=eGBwuUubl8A
Found before the hint:
Lighthouse
hhgygy
steve willis
Garfield
Chris Nason
donaaronio
Phil Ower
And with some help from the hint: